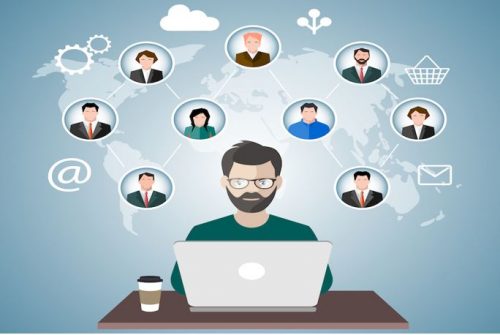 Digitization is a double-edged sword. It makes running a business easier, but it also forces you to adapt or risk obsolesces. As a business owner, I am all about connecting with my audience the way they're familiar with. And building an app is the best way to start.
The ideal option for someone who has zero programming skills is to rely on a dedicated development team. I don't have to spend hours learning how to code nor assigning tasks to a group of talented programmers.
What matters for me is to get the app built with minimum fuss and have a smooth launch. This means that I need to get the right development team at all costs.
Here's the process I went through.
Clarify the goal of such a partnership
I am running an SMB and prefer to keep my team lean and preferably focus on the core business. In other words, I'm not looking for a team of full-time developers that'll require a long-term financial commitment.
All I need is a team of experienced developers who will get the job done in the shortest time. I expect the app to be stabilized within weeks after release. Likewise, the cost of IT support should decrease once the app is stable.
That's how I've made my mind going with a dedicated development team.
Set the budget
No, I don't hire the cheapest developers on the market, but still, there's a budget that I must operate within.
It means I'll have to be smarter in choosing capable developers that don't charge an exorbitant fee.
I've learned that Eastern European countries are home to some of the best IT developers, and the rate is reasonable. Usually, they charge between $30 to $50 per hour, which is pretty affordable.
Scan the market
Now that I know which region should I focus on, it's time to hunt for companies offering IT development outsourcing.
Clutch is one of my favorite resources, as it not only lists out potential candidates but also reviews from clients who have sought their services. I even reach out to some companies from LinkedIn to check out their rates and profiles.
I expanded my research with sites like Crucnhbase and EQIP Development team, which have a comprehensive list of IT companies. They help me to create a large pool of potential candidates to choose from.
Review teams by location
Nothing terrifies me more than ending with a team that has a problem communicating with me. And that's possible when I'm hiring developers from a country that speaks a different language.
I need the IT firm to communicate in written English, and preferably, not half a planet away from my location. There are times where I'll need to get my ideas across quickly because that's how fast a small business operates.
I've combed through market statistics, and I set my sights on Ukrainian IT firms. It's within budget, I'm happy with the timezone, and there's no substantial language barrier.
Check out the reviews
As you know, IT firms are fond of publishing client testimonials on their websites. But that doesn't cut it for me.
I need to figure out if the IT firms are as good as they claimed, and that means seeking out unbiased reviews.
So, I start playing detective and search for feedbacks on forums, social media, or sites like Clutch. It gives me a fair idea of what the developer is capable of and whether it's ready to take on our project.
If I could reach out to the agency's past clients, I would — just to verify that the reviews are genuine. Well, I've got to have a degree of confidence before getting the IT firms to build an app.
Create a shortlist
By checking through the candidates diligently, I'm able to weed out those that don't seem to fit my requirements. Those that made it go right into my shortlist, which I hope to hold a quick discussion with.
Conduct introduction calls
Always have a brief call with a candidate, whether it's an IT vendor or hiring staff. That's what my years of experience tell me.
So, I drop an email to the shortlisted agencies and wait for their calls. You can tell if they're eager in the business by how long it takes for them to respond and the conversation's professionalism.
It's also the opportunity for me to ask probing questions, like how their team collaborates in handling a project like mine. It's also important to ask about post-release support and if there are any additional costs involved. It helps to avoid rude surprises down the line.
I ended up hiring a candidate that could give a simple, straightforward answer and seems to have what it takes to build my app from scratch in very little time.
And yes, I'm happy with my choice.
Summary
If you're in a similar position like I was, I hope my sharing helps find a team of developers for your business. It isn't easy, but you can get the right team by doing the necessary homework.